4M0857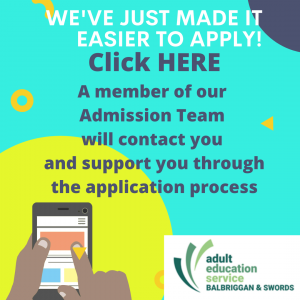 Click here to apply for Balbriggan Location via fetchcourses.ie
Click here to apply for Swords Location via fetchcourses.ie
Course Information
This is a new course offered by the Adult Education Service. It is designed to equip students with the relevant skills to avail of employment opportunities.
Progression
Successful completion of the course will enable students to seek work in a variety of roles and/or progress to further education and training.
Entry Requirements
To ensure that you are offered a place on a course which is at the right level for you and appropriate to your learning needs all applicants are assessed prior to placement on the course. A high level of English language and IT skills are required for the course.
Certification
QQI level 4 Employment Skills
What is a full award?
A full award means completing 8-9 modules. These modules can be completed in 1-5 years depending on your availability, your skills level and scheduling. 
  Click on image below 

Attendance
This course is a part-time major QQI award running over one year, two to three mornings per week. Individual modules can also be completed. There is an 80% class attendance requirement.
Work Experience Placement
Work experience is a core element of this award. Students will be required to complete 60 hours of work experience throughout the course, which they organise themselves.
Eligibility
This course is funded under the Back to Education Initiative (BTEI). To be eligible, applicants must:
be an early school leaver, and/or
be in receipt of a Social Protection payment, and/or
have a GP or Medical Card
Signing for Credits
Location
This course takes place in Balbriggan and Swords.

*Please note not all electives are available each term